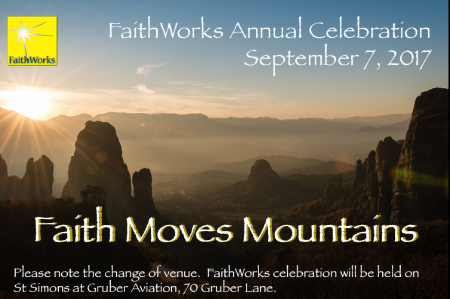 Join FaithWorks for "Faith Moves Mountains," our fifth annual evening dinner program celebrating FaithWorks' acts of service to our neighbors in crisis this past year. FaithWorks meets the needs of more than 20,000 people annually through volunteer and financial contributions from members of our community. 
This year's program will feature the Golden Isles Strummers, video testimony and a silent auction featuring a one-week stay at an Italian villa, works from area artists, jewelry and gift certificates for local restaurants and shops.  Please note the event has changed to:
Gruber Aviation
70 Gruber Lane #120
St. Simons Island, Ga. 31522

Thursday, September 7, 2017
Silent Auction begins 5:30 p.m.
Bring family and friends to learn about FaithWorks and how you can become personally involved with uplifting our community. 
Spread the news!  If you are interested in hosting a table for your colleagues, work teams or your friends, please contact Melissa Stroud at 261-8512, Ext. 105.